Workation is in the air at ValuePitch. We are pondering if we should take this initiative further. Upon receiving the message, our team began to think of all the places we could visit. It was a no-brainier to think about whether to go or not, because we all seem pretty ready from the start.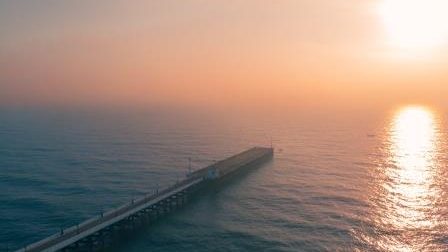 Goa vs Pondicherry ? – which is a good option? The second option to Goa was Pondicherry as Goa has all the hype. We had planned to travel to Goa in November, but due to some personal plans of our team members, we decided to go in December. As Goa is notoriously crowded in December, we decided not to go there and chose Pondicherry instead. We thought we would enjoy the beach, the climate, the rich history and more, so it was no loss for us. Our team is happy we chose Pondicherry, as Goa was already chosen by another team, and we believe in being different!
What is the ideal team size for workation? – Ideally small groups are preferable for workation, if you all belong to the same team, that is even more fun. Initially, four members of the Legal team were in the plan – Priyanka Bansode, Kriti Joshi, Rohini Kamble, and Amber Tanweer; but after a turn of events we were joined by Chitra Devadiga from the Finance team.
Planning started a few weeks after hearing about the initiative. After numerous discussions, our plan was not still in a good shape to be executed. Seeing all the other teams going places boiled us a bit, but we quickly made plans for the best time to visit Pondicherry which is in the month of December.
Why accommodation is so important in workation? Generally workation is for a longer time, While choosing accommodation, internet connectivity was our name of the game along with good ratings on safety, living conditions, Wi-Fi, food, and staff. Luckily, our stay at "Queens Paradise" was super safe with a lush green surroundings and the atmosphere took us back to our homes.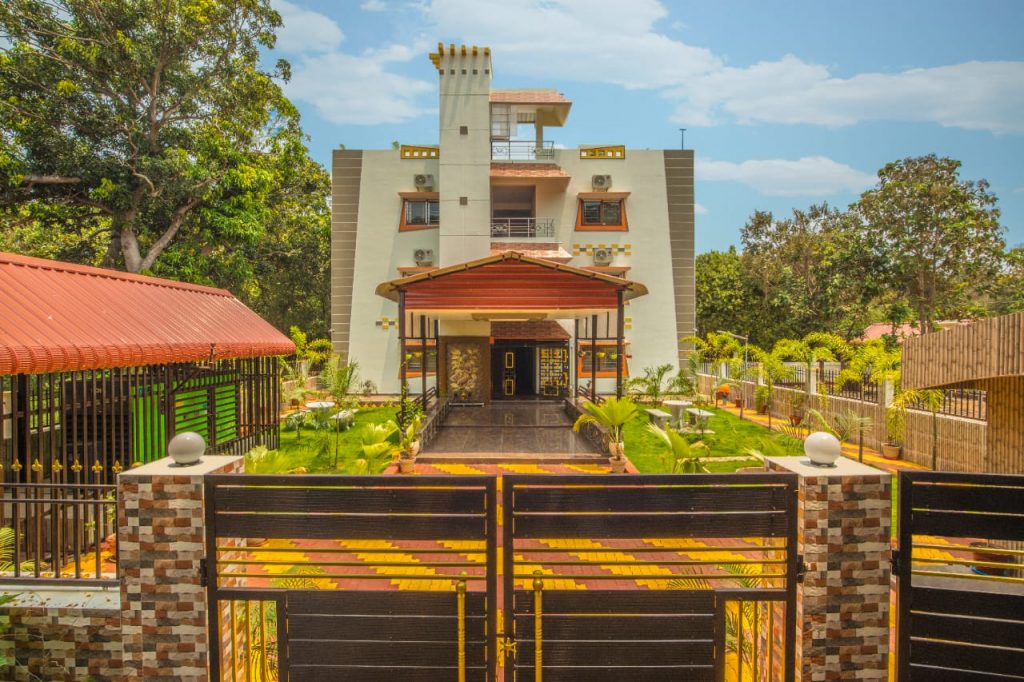 local Commuting: The commute was basically an Uber/Ola and occasionally local auto rickshaws. The cozy environment and the kind people made the work peaceful and fun! The little escape from our homes to Pondicherry proved to be a booster.
It was fun to visit the beach and watch the sun rise or go swimming. We used weekdays to finish our major work and weekends to cover a few far places.
Day 1: On our first day we visited Church, The Sacred Heart Basilica, Rock Beach, roamed around the town, and dined well. It was a wholesome day and a good start to the trip. The church looked beautiful and felt soothing.
The famous rock beach hooked us up till dusk as we stood there, clicking pictures while the minor sea waves crashed against us. We ate street food throughout the day and ended it on a happy, content and tired note. We then visited the French Colony, it is beautiful in its own way, bustling with people, French cafes, and markets, spreading fresh and exciting vibes throughout.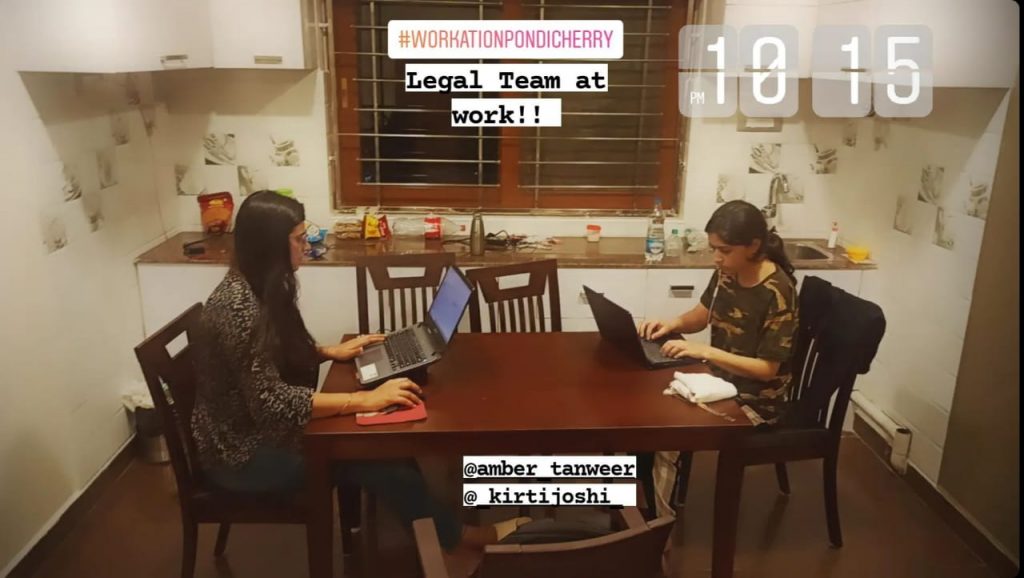 Day 2: The next day we visited Auroville, it is an experimental township in Viluppuram district, its purpose is to realize human unity. It was breathtaking, peaceful and a place to calm our nerves. A long walk in a jungle-like place led us to the main area and we just sat there looking at the Golden Dome.
The Matrimandir (Sanskrit for Temple of The Mother), it is an edifice of spiritual significance.

Day 3: We decided to visit someplace outside Pondicherry and choose Mahabalipuram (a highly recommended place). We got to visit a good local market, the Sea Shell Museum, a fish reserve, and a pearl museum. One early morning we decided to visit Serendipity Beach, and to reach there we rented a scooty.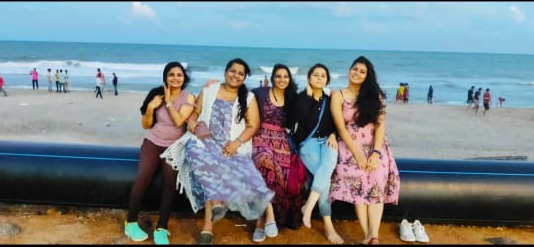 Fun Fact: Three of us wished to go visit the beach and only one of us knew how to ride a scooty, so we just did not think much about it and did tripling. The beach is gripping, refreshing and gives a good start to the day.
Day 4&5: We then decided to spend our Saturday and Sunday for our short trip to Rameshwaram. It was an overnight journey by Bus, had a good start with a good breakfast, and then visited the famous Arulmigu Ramanathaswamy Temple. Then we went along to visit the House of Kalam. It felt good to see all the works by Kalam Sir being cherished, honored and preserved.
The second half of that day, we went to visit Dhanushkodi, which is believed to be the place where Lord Rama had ordered Lord Hanuman to build a bridge which could carry his army across to Sri Lanka, and OH what a place, the view, the atmosphere, the waves, sea everything was just jaw dropping.
The hotel provided us with good food. The team tried new dishes, ate local specialty food, seafood and grabbed meals all the way from the street to the finest of restaurants.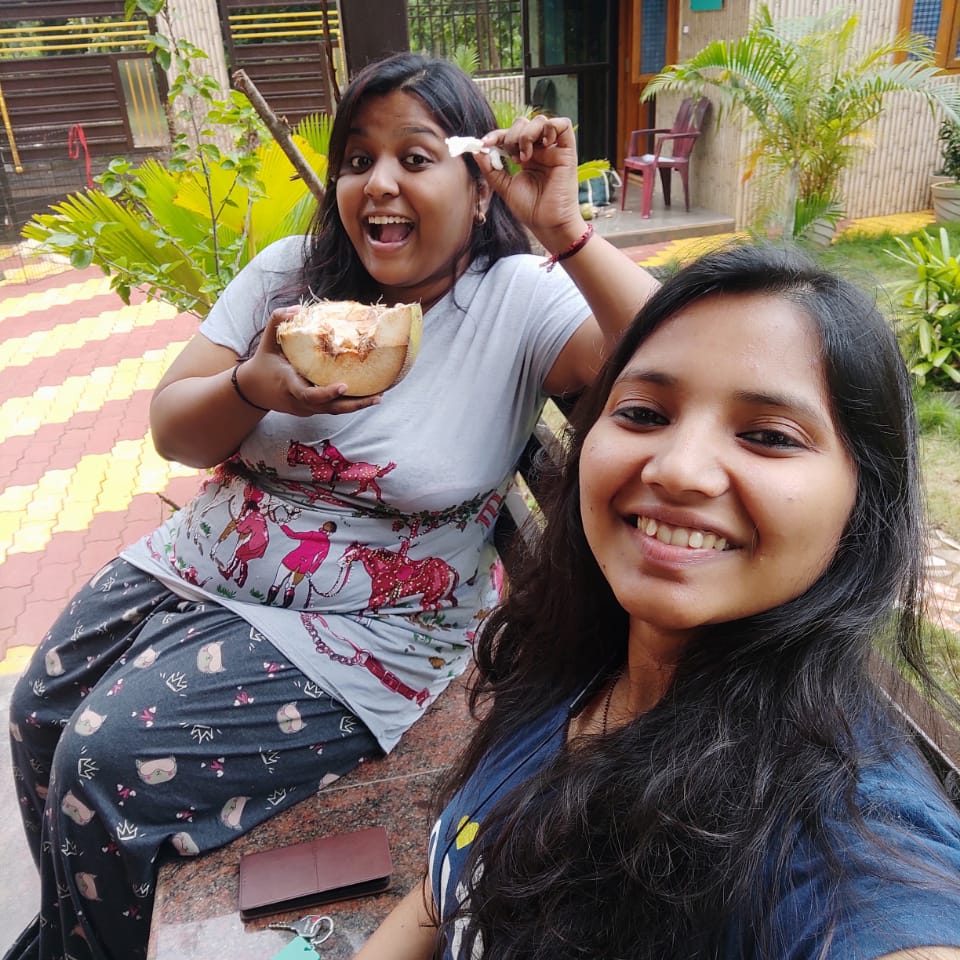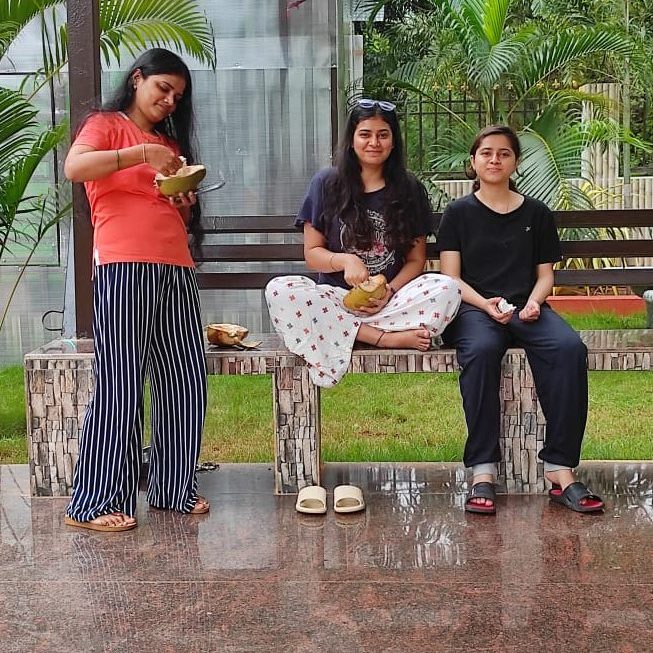 What you should't miss in pondicherry is street food: Special mention to Kairi – A street snack made of raw mango which is cut into thin slices topped with salt and red chili powder. We ate it wherever we could find it.
The Unforgettable moments were definitely the people with whom I went. Getting to meet and know my colleagues was the best that came out of this trip. And yes Coconut Water! Couldn't get enough of it. Per Coconut cost us Rs.20 only, so it was a jackpot.
Are the police friendly? Once we were stopped by the police right after entering the Tamil Nadu state limit. They were searching for vehicles carrying alcohol as it is not allowed to freely carry alcohol around. Well fortunately we didn't have any, and also, Priyanka Bansode (Legal Head), handled the minor issue.
Few incidents on this trip made us laugh our hearts out, and few were weirdly humorous enough to giggle at them and one such incident that takes the cake is when a bottle filled with cold coffee busted overnight in one of our rooms. We woke up to the walls; ceiling and luggage decorated with coffee and just couldn't imagine how this could have occurred. Sight of our helplessness and the mess that was made is a memory to be laughed at.
How Valuepitch helped us? – Finally, the support, help, guidance and the care for our safety from the side of ValuePitch was praiseworthy. The day to day assurances taken by Shreyasi Ma'am about our wellbeing and safety made our trip mellow. We wish to thank her, for she was constantly communicating with our team head to make sure we are having a good, fun visit and that we return safely to our homes. We also wish to thank Rajshree, for helping us throughout with our modes of conveyance. From booking our tickets to sharing with us the contact details of the driver of our respective cabs on time which made our travels safe and sound. All in all we wish to thank ValuePitch